Robert Delaunay was an early twentieth century French painter famous for his geometric and bright colored artworks. He was one of the earliest known artists who delved into pure abstraction, which prioritzed bright colors over and above objects and form. Delaunay, along with his wife and colleagues, co-founded the Orphism art movement in 1912.
What was Robert Delaunay Known For?
Robert Delaunay was known for for co-founding the Orphism art movement with his wife, Sonia Delaunay (nee Terk). His paintings are most famous for their geometric shapes and their bright, highly saturated colors.
Where and When was Robert Delaunay Born?
Robert Delaunay was born in Paris, France, on 12 April, 1885. His father was George Delaunay and his mother was Berthe Félicie de Rose.
In 1889, Delaunay's parents divorced and he was sent to La Ronchère, where he was raised by his aunt and uncle.
Where and When did Robert Delaunay Die?
Robert Delaunay died in Montpellier, France, on 25 October 1941. He was 56 years old and died of cancer. Delaunay was survived by his wife, Sonia, and son, Charles.
Delaunay died during World War 2. Leading up to his death, he and his wife moved to the south of France in an effort to evade the German army, who had started their invasion of France the year prior.
Unfortunately such a physical upheaval had taken its toll on Delaunay. His cancer worsened as a result, with him eventually succumbing to his illness.
What did Robert Delaunay Paint?
Robert Delaunay painted a variety of different subjects. His most famous paintings consisted of abstract shapes and colors (Orphism) as well as portraits and architectural landscapes.
What Materials did Robert Delaunay Use?
Robert Delaunay's materials were predominantly oil paints and canvas. However he was also known to experiment with other mediums. For example, Delaunay's 1936 painting Disc-Relief was created using a mixture of pencil, gouache and sand on board.
What School Did Robert Delaunay Go To?
Robert Delaunay never attended art school. However, at the age of 17, his uncle enrolled him at an atelier to study decorative arts. While this wasn't exactly fine art, it pushed him in the direction of focussing purely on painting.
Who was Robert Delaunay Influenced By?
Robert Delaunay was influenced by Henri Rousseau, Jean Metzinger, Paul Cézanne's and several other artists from the Pont-Aven Art School.
Who did Robert Delaunay Work With?
Robert Delaunay most famously worked with his wife, Sonia Delaunay. Delaunay also worked closely with Frantisek Kupka, a Czech painter who co-founded the Orphism movement with the Delaunays.
What is special about Robert Delaunay artworks?
Delaunay's artworks are highly regarded in the art world because of their highly saturated, bold colors and geometric forms.
Delaunay was active during the Cubism movement, and he took the ideas from cubism and pushed them further by enhancing color and shapes and simplifying his subject matter.
For example, Picasso's Girl with a Mandolin has definite form and depth to it, with beautiful muted colors. Whereas Delaunay's Windows Open Simultaneously is a similar style to Picasso's Girl with a Mandolin, but with more saturated colors and more abstract subject matter.
Robert Delaunay's Most Famous Artworks
The City of Paris (1912)
Medium: Oil on Canvas
Dimensions: 159.84″ (width) x 105.12″ (height)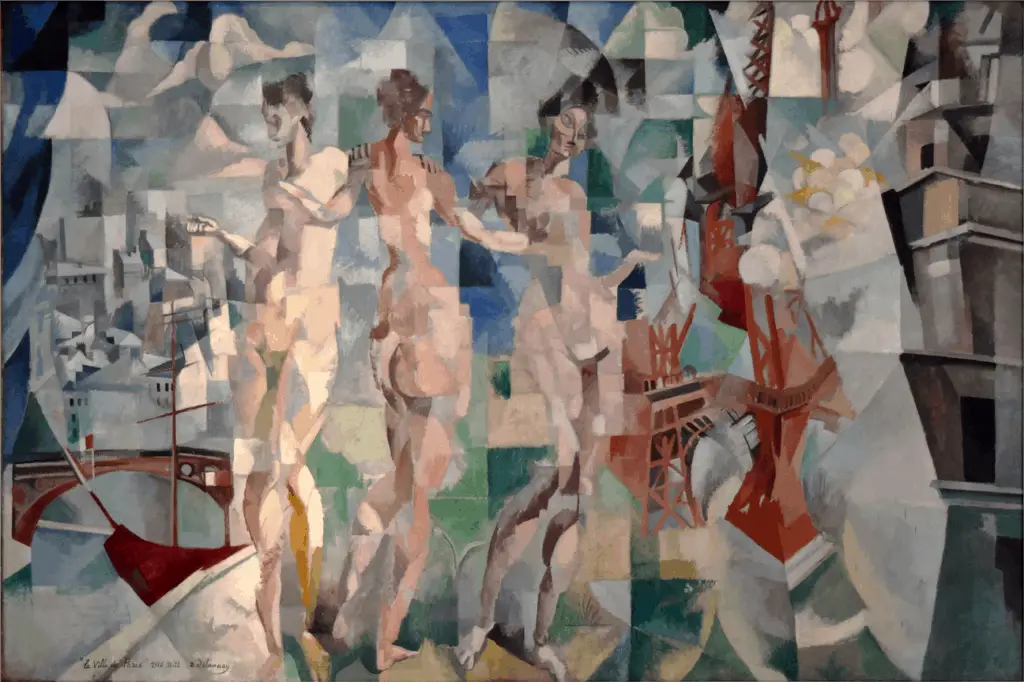 This is one of my favorite paintings by Delaunay. Not only is it absolutely enormous, it's got a bit of everything in it! Landscape, architecture, clouds, water, and of course – the figures.
I love how the three women are painted in such a diverse way. Although they are all standing up and are of similar heights, there's one woman looking to the left, one with her back to us and one looking out of the painting to the right.
Despite the canvas being over 4 metres wide, Delaunay has created the most beautiful verticals across the entire painting. I have seen many paintings of the Eiffel Tower before, but never one painted quite like this one!
This painting was created around the same time that Delaunay started to push his cubism style towards Orphism. But I think I prefer his cubism here. Instead of using his trademark vivid and highly saturated colors, here, he filled this canvas with the most beautiful light, culminating around the leftmost figure.
Simultaneous Contrasts: Sun and Moon (1913)
Medium: Oil on Canvas
Dimensions: 53″ Diameter
Notice anything interesting about this one? It's a circle. But not just a circle, it's a pretty massive circle! I feel that Delaunay chose the circle to further evoke the idea of a sun or a moon.
But yeah, this painting's size surprised me. I thought this might have been only 12 inches in diameter, but they really should have put a small child next to it for scale! This painting clocks in at an impressive 53 inches (which is 134.5cm for our non-American friends reading this).
I love the uneven distribution of elements in this painting:
The sun on its own in the top left, looking down on what kind of looks like the earth engulfed in flames.
The cool colors dominating the left side is broken up by the warm, orange and purple ring around the sun.
Similarly, the warm colors on the right side has beautiful flecks of cool blues and greens throughout. This gives a fantastic sense of harmony throughout the entire artwork.
Circular Forms
Saint-Séverin No. 1